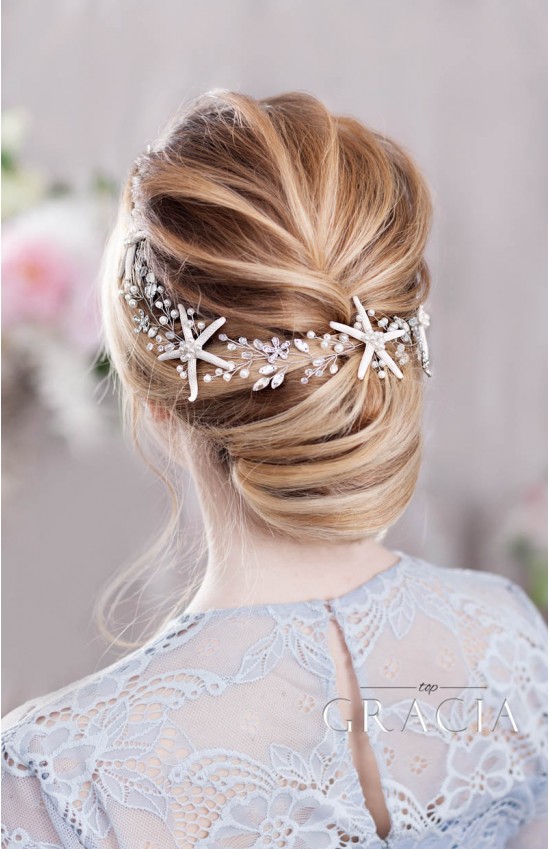 DANA Beach Wedding Hair Accessories
---
Shipping:
Delivery:
Returns:
7 days money back, buyer pays return shipping
Payments:
Guarantee:
TopGracia guarantees 100% refund if the product was broken or does not work for you
---
What can top off a wedding ensemble if not a glorious wedding hair accessory?! A well-chosen headpiece can become a beautiful complement to any bridal gown. The right choice depends not only on the dress and the hairstyle but also on the wedding theme. If you are going to exchange vows on a sandy beach on the background of foamy waves and gleaming sun, you will need to find an appropriate accent to your look. Here, at TopGracia, there is a myriad of amazing models all made to complement a luxury beach bridal appearance.
Representing DANA
Beach wedding hair accessories mostly include nature-inspired details such as flowers, seastars, pearls. DANA is the new miracle we are ready to present to your judgment. It is an ideal piece for a beach ceremony that looks splendid against a wavy beach hairdo. Whether you have short hair or long luxury locks, the wreath will beautify your appearance with its luxury gleaming. Opulent and imposing, elegant and modest ... Whatever style you want to acquire on your wedding day, this bridal hair wreath is just right for you. In all scenarios, you are going to look unique and captivating.
Quality + Look + Convenience
Do you know what makes TopGracia accessories and jewelry one-of-a-kind? It's the combination of top quality materials, amazing design, and blissful comfortability. Expert designers used exceptionally premium quality jewelry wire to build the decoration on. Thus DANA is highly flexible and can be blended the way you need to compliment your hairstyle. Despite being flexible and durable, the accessory turns out very lightweight. Even if you decide to wear the same hairstyle during the ceremony and the celebration, it won't tire you.
TopGracia's designers were meticulous in picking up the parts of this new head adornment. Several dried natural seastars make the basis of the embellishment. However, without the abundance of other decorations, they would hardly make the headpiece look nearly as charming as it is. Little lovely clear crystals, beads and pearls contribute to the accessory's appearance. A few amazing metal flowers decorated with gleaming rhinestones, meanwhile, put the final accent to the headpiece. You see how many details were used to build DANA! And once you put it on your head, you will also feel how much devotion and love were invested in creating it!

Do you wear your hair short? If yes, most probably you have been having difficulties in selecting an appropriate head adornment for a beach wedding, haven't you? This hair wreath is designed to suit all women irrespective of their hair length. You can have your locks falling down your back, tightly wrapped up, or tied into an effortless updo, DANA will look amazing against any bridal hairstyle and a flowy beach wedding dress, of course!