Sweet-Sweet Beach Wedding...
What can be more relaxing and romantic than a beach wedding?! Wearing a graceful flowy wedding gown, kicking off your high heels to feel the sand between your toes while you're holding your husband's hand, taking pleasure from the fascinating sunrise and sunset over the sea with your dearest people surrounding you is the pleasure that will stamp in your memory forever. To inspire you to say "I Do" with the ocean, you will need some themed decorations.
A creative yet beach-themed wedding cake adorned with edible shells and starfishes, mildly glowing candles and lanterns, string lights to cover the beach at night all promise to make this day unforgettable as for you and your spouse, so for your guests.
Make sure you'll be exchanging vows and kissing your beloved person under the most romantic arch decorated with roses and peonies, pearl strings and silk voile. And what concerns beach-themed wedding table decorations, the latter should be impressive and at the same time dreamy with appropriate centerpieces. Select the best corals, sea urchins, starfishes and seashells for creating outstanding table centerpieces.
You can create the gorgeous atmosphere for celebrating the destination wedding of your dreams, but you won't make it perfect unless you have the most striking beach bridal attire! A light-weight and flowing bridal gown will be fantastic, yet you'll need some one-of-a-kind exquisite wedding jewelry and starfish accessories to accomplish and perfect your appearance.
Shine Brighter with Ourania Starfish Jewelry Headband
Are you planning to leave your hair down on your beach wedding or perhaps an elegant updo suits you better? Gently gleaming pearl beads, glass crystals, and dried natural starfishes make up a romantic bridal beach jewelry named Ourania. This piece guarantees you'll gleam brighter than the night starlit sky.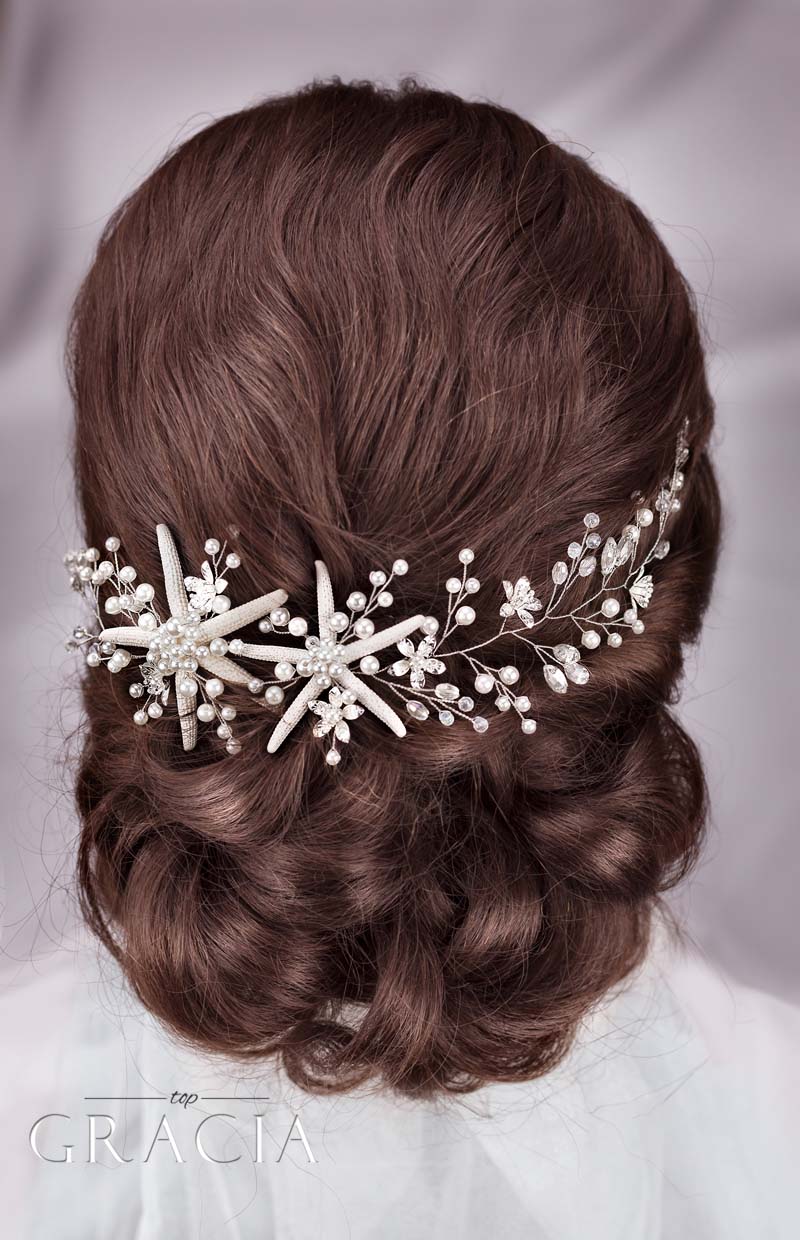 Help Her Look Splendid
Without any doubts, you love your dear bridesmaid. Why not help her look even more beautiful and charming with Pallas starfish jewelry? The silver necklace with a starfish pendant will gently rest on her open decollete, while the earnings will give her appearance a unique spice. Both the earrings and the pendant are embellished with sparkling crystals that overflow with all colors of the sea from foamy light blue to stormy dark tones.
Bring a Sophisticated Tone to Your Bridal Image
A well-designed starfish hairpiece should adorn a bride's hairstyle as delicately as the Despoina headband does. This piece is an intricate jewelry which will emphasize your immaculate image of a pure and subtle bride. Be certain, regardless the gown and the hairstyle you choose, Despoina will make you stand out and make your sweetheart fall in love with you anew!
Facebook Comments ()