Make "Something Blue..." a Part of Your Nuptials
"Something old, something new, something borrowed, something blue," says the popular English proverb. A woman, carrying the following items of representing prosperity and enjoyment, steps into a new married life prepared for changes. The first item embodies constancy, the second one exemplifies confidence for the better future, the third is for the borrowed contentment, the last item, meanwhile, indicates tender feelings, pureness, and fidelity. There are several amazing jewelry and headpieces offered by remarkable TopGracia brand that will complete the perfect bridal image while exemplifying the purity every bride should radiate with her appearance!
Admirable Hair Embellishments from TopGracia with Love
Whether you are going to wear a crystal clear white or a pale blush wedding gown, there is always a chance to incorporate something blue into your apparel. Erika Bridal Hair Comb TopGracia is proud to present to your attention is a grandiose choice for the case. The luxury gleaming of marquise-cut royal blue and round clear rhinestones is artfully paired with small pearls. The enticing and somewhat elaborate silver floral motives, meanwhile, is going to complement the patterns of your gown. Fasten this navy blue wedding accessory with your half-down hairstyle or the classic updo. Be certain, whether you are a shiny blonde or own luxury dark locks, the unique color and sparkle of this accessory will only accentuate it!
Nevertheless, there is also another amiable variant worth considering - Panagiota Bridal Hair Comb. This is a gracious piece of head adornment constructed with little round pearls, metal leaves, marquise-cut clear and sapphire rhinestones. The latter form the central flower which is framed with leaves and branches of clear crystals. The entire composition is flattering to the eye.
Adorn Your Bridal Look With Blue Jewelry
Sapphire blue crystals look so enchanting and intriguing when they touch a feminine skin! Want a proof? Just see how exquisitely the Kleio Bridal Bracelet enriched with cubic zirconia crystals looks on your hand! The silver metal makes the basis of the pattern while the marquise-cut royal blue crystals alternated with round clear crystals form its glorious look!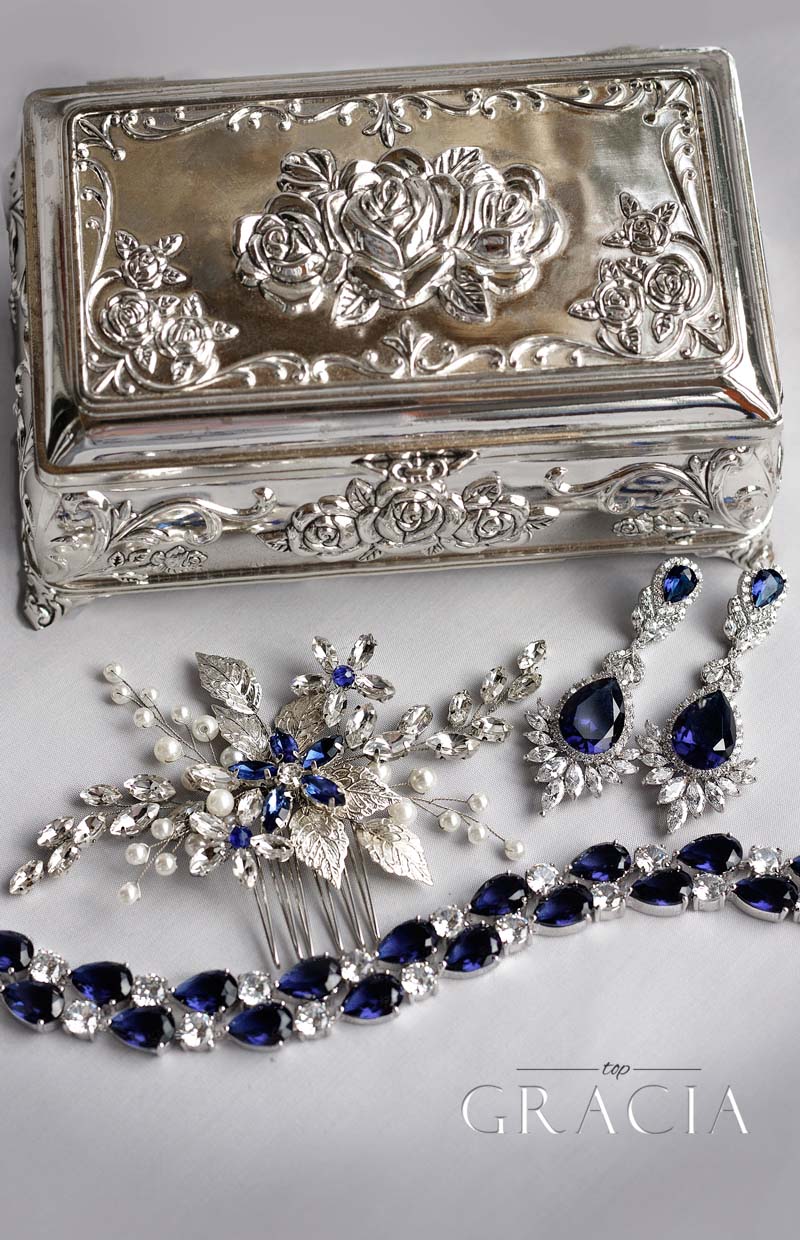 A timeless sophisticated bride's style can be created with your hair tied into an elegant updo and a pair of lavish earrings. Klotho earrings with sapphire blue rhinestones in teardrop shape on a silver metal basis will dangle loosely on your ears driving all eyes (and especially His) on you! The deep sapphire-color stones are framed with little clear cubic zirconias that only emphasize the glorious sparkle of this luxury color. Get this gorgeous sapphire blue jewelry for your nuptials and be certain, it will bring you the eternal love you deserve!
Facebook Comments ()