Enhance Your Romantic Bridal Hair Half Up Half Down Hairstyle with Veil Accessory Wedding Hairstyles Actual in Spring/Summer: Loose Updo in Messy Look with Veil Bridal Headpieces
Did you know that initially bridal veils were used to disguise the bride from evil spirits on the most significant day of her life, while the moment the groom unveiled his bride signified he took the ownership of the bride from her father? In accordance with another theory, bridal veils and trains were intended to weigh brides thus preventing them from running away in the middle of the ceremony. However, whichever theory is more correct, it doesn't interfere with the fact that a veil gives a bride the purest divine look she could ever hope to create!

And if you have decided to adorn your wedding half down hairstyle with a veil, it signifies about the high sense of beauty you have. You are sure to look splendid especially if you find the proper accessory to complete your breathtakingly beautiful bridal image! Let TopGracia become your guide into the world of majestic headpieces and you will definitely find the most appropriate accessory for you, we promise!
Get the Symbol of Love in Your Hair
White and champagne roses represent innocence, purity and young love. Particularly this beautiful rendering of this flower's significance lied on the basis of ROSE Floral Hair Comb in white and DIONA Champagne Hair Flower headpieces by TopGracia.
Both embellishments look so charming and romantic, that any bride wearing them will feel as if a Juliette at last united with her Romeo! If the first pattern looks more ornate than the second one with its multiple little clear rhinestones, metal leaves, round pearls, and tiny beads, DIONA accessory is beautiful, particularly in its simplicity. Having two soft silk flowers in champagne color in the middle of the accessory, a couple of branches with silver metal leaves and marquise-cut crystals complete the entire ensemble making it a perfect option for a spring or summer wedding. What makes these two gorgeous flower headpieces so unique, is that they look fantastic with bridal veils. Yet, both ensure a charming look to your half down hairdos if you make your mind to take off your veil during the party!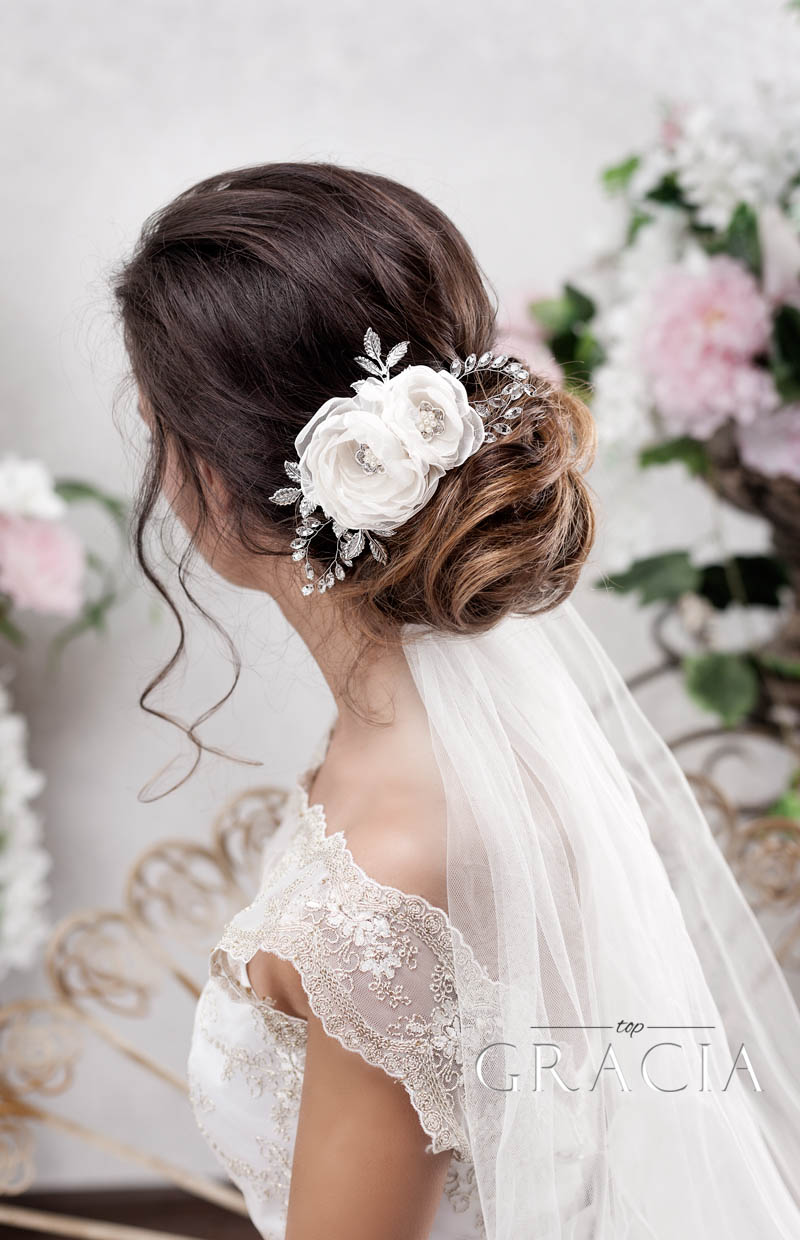 Timeless-Elegant Hair Combs
Bridal hair combs have always been the favorite accessories of brides. These are very convenient pieces, as they get firmly fastened to a bride's hair yet feel lightweight and comfortable, surely if they are made by professional designers and of premium materials. Particularly for its adorable brides, TopGracia recommends pairing their veils with ALEXA, OLYMPIA, PANAGIOTA or ZENAIS bridal hair combs. Each of these amazing headpieces is unique in its own, yet they are all perfect to accomplish a bridal hairstyle with a veil.
ALEXA exquisite hair comb is adorned with tiny white blooms and artificial, yet so amiable pearls! It can be fastened above the veil to make a picturesque ensemble with it.
OLYMPIA crystal headpiece, meanwhile, is a more ornate option.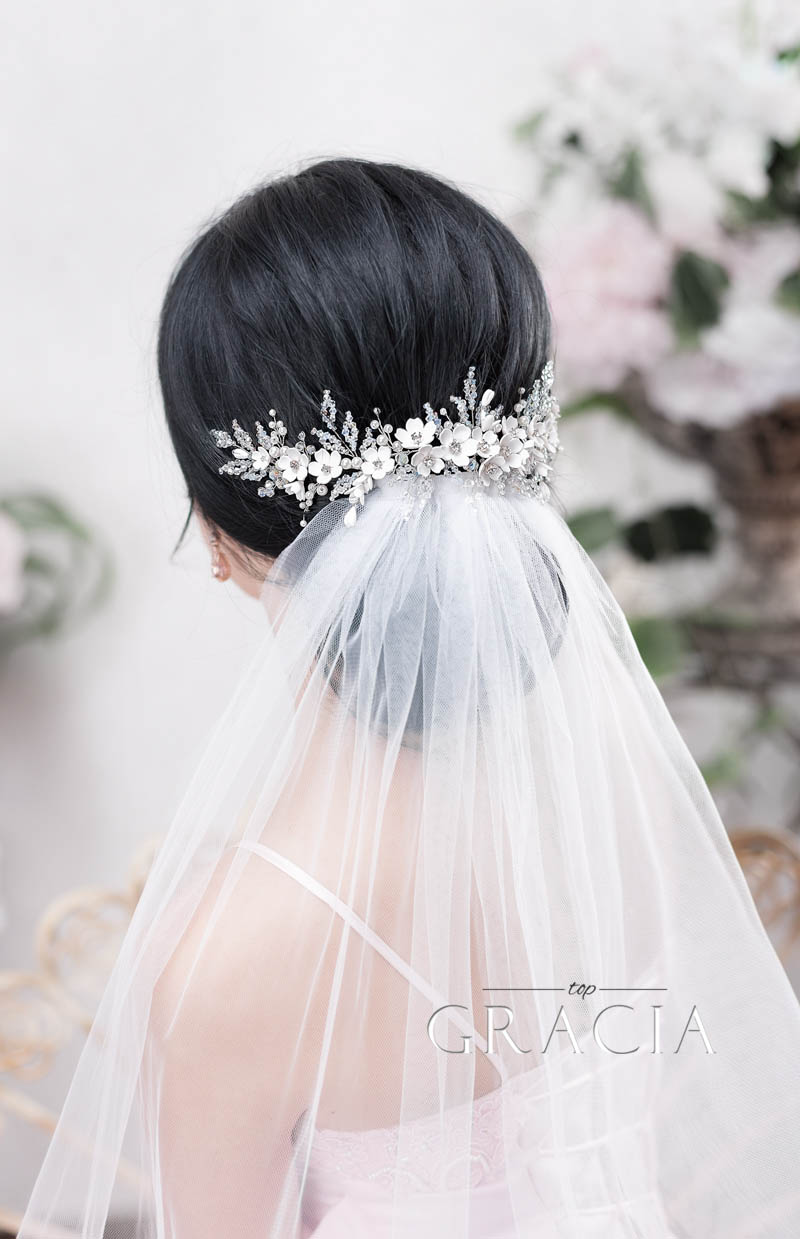 Its pretty flowers and beads will shine brightly on both blonde and dark hair just as PANAGIOTA luxury accessory. Fulfilled with metal leaves and clear crystals, the latter has velvet blue gemstones in the center as the main emphasis. The pattern will look especially grandiose with a pure white bridal veil!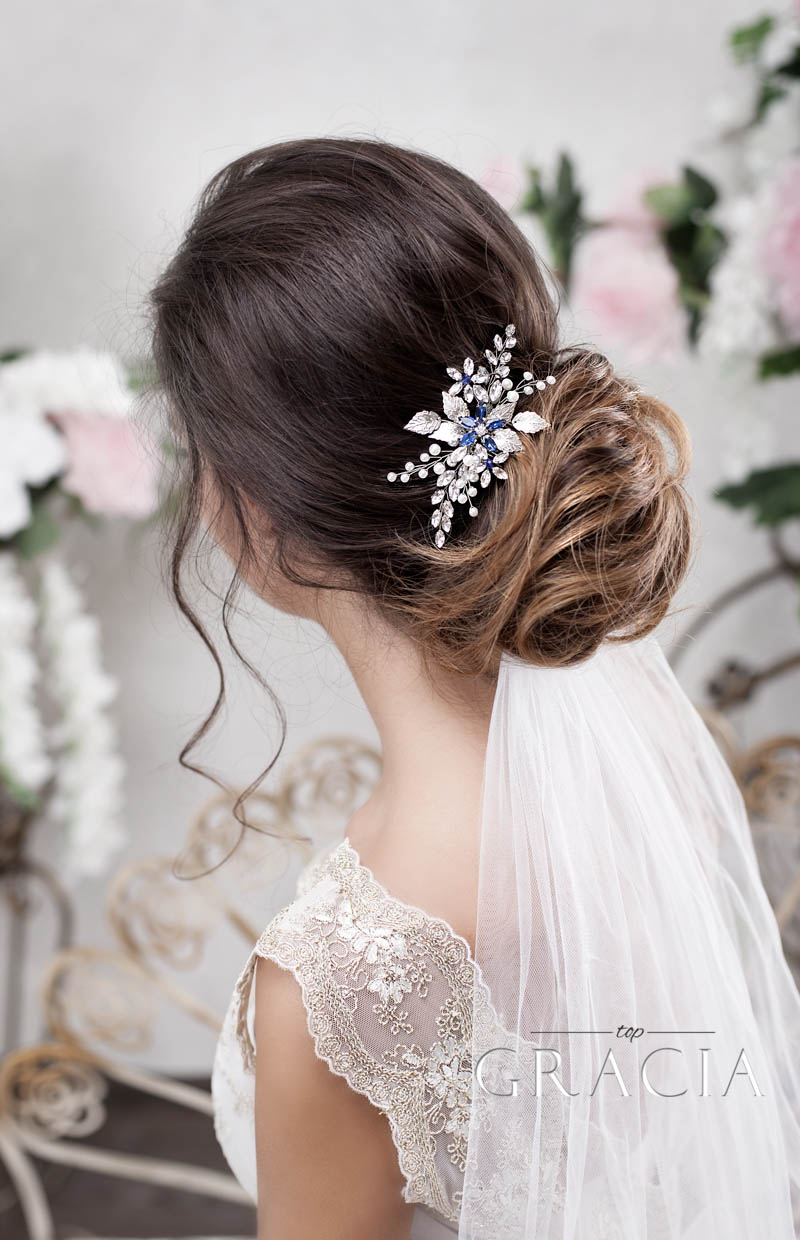 For brides who wish to wear a bridal veil yet want to shine brighter than a night star on their wedding day, TopGracia has created its new ZENAIS adornment. Multiple metal leaves, hand-crafted enameled white floral petals, freshwater pearls, and clear gemstones make up this fabulous head decoration!
Each of these models looks adorable and promises to bring an odorous appearance to your bridal image!
Make Your Look as Remarkable as Your Wedding
In case you are after something fascinating yet original, TopGracia is glad to offer you AMARA wedding crown. This is a truly sophisticated piece that will make you the queen of your day. Entirely made of silver metal, the crown is embellished with marquise-cut flashing crystals and enameled white flowers. Just make the updo you love the most, fasten your fascinating veil and finalize your appearance with AMARA graceful crown.
If your summer wedding is going to be held on the beach, with the turquoise ocean and clear blue sky on the background, it will be a glorious idea to use KLEOPATRA or XENE starfish bridal headpieces. These are completely various models yet both so marvelous!
XENE with the metal starfish central decoration and several branches full of crystals can be fastened to your hair in any way you wish! Adorn your half up half down hair by fitting it to the side of your hairstyle. This way it will stand on its own and no hamper the beauty of your bridal veil!
KLEOPATRA headband, in the meantime, is made to add the shade of charm and cuteness to your appearance. It's entirely decorated with glittering clear gems in different shapes and tiny white blooms. If you are young, have lavish locks and need an accessory to accentuate all these merits while suiting your pure-white wedding veil ideally, this is the best option!
The gentle sun, awakened nature, and the pleasing warm air make Spring and Summer weddings truly original. If you're going to exchange vows with your beloved person particularly in either of these seasons, let TopGracia help you create a mind-blowing look! If you prioritize high style, elegance, and quality jewelry materials, we are at your full disposal!
Facebook Comments ()