10 Lavish Gold Headpieces vs Stylish Silver Models
Your wedding day is approaching ... All the guests have received their invitations and your host has already arranged a grandiose reception! Probably you have made up your mind what bridal gown you'll wear on your nuptials and what hairstyle you will have, as well. And now it's high time to think of the final details, those little yet so significant accessories that may either accomplish your mind-blowing look or on the contrary, spoil it. Depending on the style of the wedding, its theme, and venue, as well as your bridal gown and jewelry, you can select either gold hair adornments or those completed in a silver hue. It's highly crucial to get the right color, the one that will make you the most beautiful and stylish bride of the year!
Get the Warmth of Luxurious Gold Adornments
Gold is the color of wealth, the color of luxury and glamour. If that's what you want to accentuate, TopGracia has some gorgeous options! Each of them is handmade by the brand's talented and professional designers and will serve you many years to come.

If you are going to celebrate elegant nuptials in a luxury hall, you need to create an image of a glamorous goddess. Xanthe Bridal Hair Comb is the ideal gold bridal hair accessory for the case. This is a charming composition made from polymer clay little blooms, shining marquise-cut clear stones, round pearls, and gold metal leaves. You will look your best with a sophisticated down-do accentuated with this adorable headpiece. It goes amazing with any hair hue.

Nevertheless, going for a more tender look to appear in on your garden wedding celebration, it would be great to select Xenia Flower Comb. Complemented in blush pink and rich burgundy colors, the central flowers catch the eye with their intricate beauty. The gold-rose metal leaves, along with branches or lovely pearls and gemstones, in the meantime, make this gold bridal hair accessory simply stunning! They will radiate the Sun's rays in the daytime and gently gleam after the sunset.
TopGracia also has another magnificent gold bridal hair accessory designed especially for Fall or Barn weddings. This is Calli Rustic Headpiece with big sunflowers in the center and branches of golden leaves accentuating a fall theme. Calli will nicely fit your down-dos and stay firmly fitted throughout the whole day!
Shining Brighter than the Stars with Silver Pieces
Silver bridal accessories symbolize the elegance and high style of a bride. Therefore, picking out a charming silver wedding hairpiece for your big day, you need to make certain you won't be wearing any gold jewelry. Besides, silver accessories look their best paired with white or ivory gowns.

Elegant brides who are going to celebrate their wedding in a formal style will get mad for Alexa Bridal Hair Comb or Hermione hairpins.
Both silver wedding hairpieces are fulfilled in silver metal and feature marquise-cut clear gemstones. Alexa is also enriched with little round pearls and polymer clay white blooms. And if Hermione hairpins can be attached to any hairstyle and always catch the eye, Alexa is especially wonderful on loose glamorous down-dos.

If you value the beauty of the past, why not choose a vintage-inspired silver wedding hairpiece?! Zenais can be the excellent option! Fulfilled with freshwater pearls, white polymer clay flowers, glossy clear crystals, and, of course, branches of metal leaves, this silver wedding hairpiece has a vintage shade no exquisite bride can stay indifferent to.
If Zenais is too elegant for your tender look and won't fit your down hairstyle, TopGracia suggests choosing Iolanta Hair Vine. The latter can look amazing on any braid, as well as loose curls. Suitable for a garden, beach or simply romantic celebration, the silver wedding hairpiece will draw the attention of all your guests! The headpiece can be bent in any way your hairstyle might require.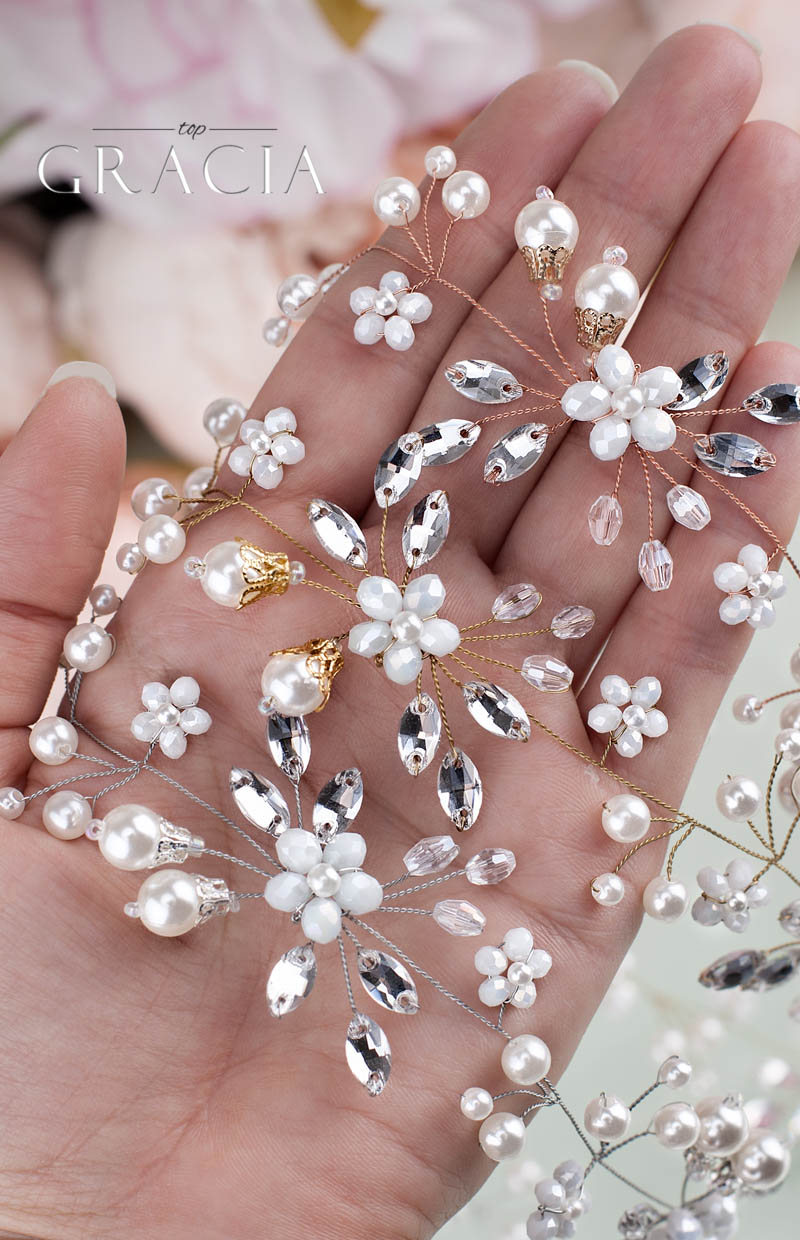 Whether you need a gold bridal hair accessory or a silver one, you are welcome to TopGracia! Here you will find an amazing option to complete your breathtaking appearance!
Facebook Comments ()