6 Romantic Bridal Hair Half Up Half Down Hairstyle with Veil Accessory
Are you bewitched with long flowy hair trusses, side-swept luxury locks or Hollywood waves? Or perhaps it's the braided bohemian down-do that appears in your pre-wedding dreams? In all these cases a few extra inches of hair will definitely give you lots of advantages and options to choose from. Long locks give you space to be more creative, original, and adventurous, while with the little assistance of an appropriate accessory, the game can be considered won!

Surely, before you choose a hairdo for your grandiose day, it's important to base the decision on such factors as your face shape, the venue and style of the event, the presence of a veil in your attire, the gown and its neckline. But if you are inclined to let your long luxury locks show off, there is always a fantastic option for you! TopGracia is going to help you create the breathtaking look you dream of achieving with its useful tips and a couple of dazzling adornments. So, our sleeves rolled up and eyes wide open, let's get to work!
Half-Up Bridal Hairstyles
Among the most romantic looking, and at the same time handy hairstyles for a wedding the half up half down hairstyle has its honorable place. It's especially great if you are going to celebrate the event in a windy area, let's take a beach wedding or a garden venue. This uncomplicated but so charming hairstyle will not only demonstrate your long lush locks but also keep the hair off your face. Nothing will close your pretty face and gleaming happy eyes! To accentuate the glamorous feel of your soft big curls, we can recommend enriching the hairdo with the adorable DIANTHE crystal wedding vine. With its delightful blooms, crystal leaves and branches of tiny rhinestones, this hair accessory is going to upgrade your appearance. The accessory will gently fit into your locks and draw all eyes on you!
Boho-Chic Lavish Braid
What can look more enticing and impressive than a messy-chic braid?! This is the unique style that looks trendy and touchable in the meantime. Depending on your dress type, you may opt for a braid dressed up or down. For instance, to add some sophisticated vibes to your lavish bohemian chic fishtail braid, dress it up with HELEN hair vine by TopGracia. This absolute stunner with tiny pretty blooms and rhinestones is a proved accessory in upgrading a bide's appearance making her look a bit more mysterious, a bit more romantic, and a lot more charming!
For a larger, looser and more impressive boho-chic braided hairstyle, we'd recommend you DORA wedding accessory. Implemented in a braver and more eye-catching design than the previous model, this adornment is a grandiose means of emphasizing your luxury locks. It suits vibrant brides, confident in their unmatched beauty and peculiarity. If you consider yourself one, there's no point in hesitating! A marvelous loose braid adorned with DORA vine is what will accomplish your immaculate appearance!
Soft Loose Curls, Tight Chic Curls... Just Curls
We adore those soft loose curls and are sure you do, too. And what about tight and gleaming curls? They are amazing, too, aren't they?! Whatever your preferred look is, both down hairstyles will help you make it endlessly chic and picturesque. Adding an embellishment is not a necessity in this case, but it will unconditionally enhance the beauty. IOLANTA long flower vine with crystals is a flexible accessory that can be used in any way you like. Swipe your hair up from one side, fasten it with a small unnoticeable pin, and make it a start for the vine to entwine into your hair in an intricate design. You can also use the vine to embrace your locks making it look as if a huge ponytail off dazzling curls. The options are endless, as the IOLANTA vine can be bent in any way you like, just work your imagination and fulfill the bravest hairstyle designs you have in your mind!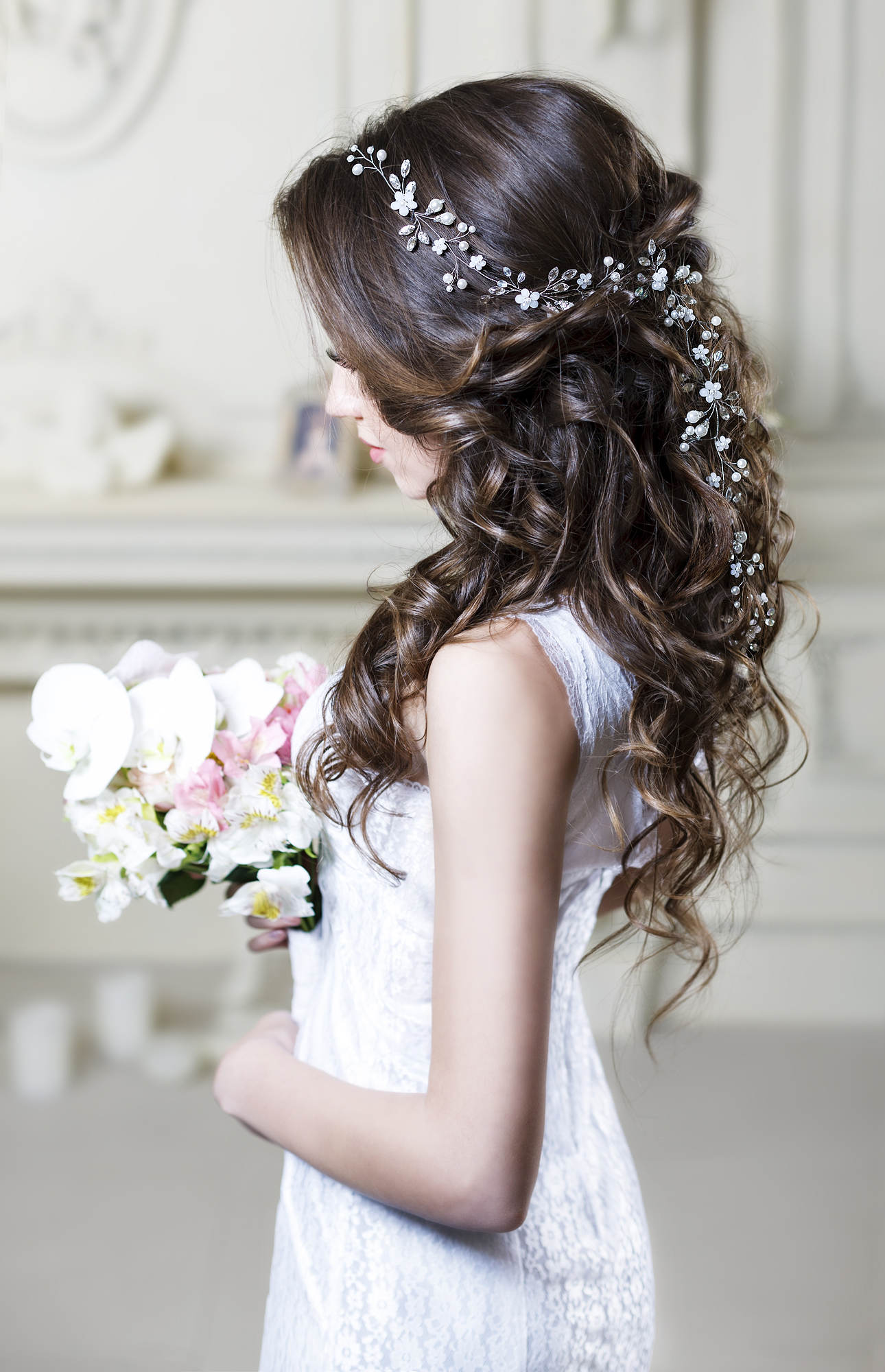 As you see, there many ways of demonstrating your lavish hair on the wedding day and with the addition of the correctly selected accessory, the appearance you choose will get enhanced! Just stay true to your style, yet don't be afraid to experiment!
Facebook Comments ()