10 Right Bridal Hair Accessories for Your Grandiose Wedding Look
Wedding preparations can be really overwhelming and sometimes even troublesome, yet no woman can deny that all those troubles are so pleasant to bear! And if you, as a bride, can entrust the ceremony and celebration organizations to your wedding host, the same can't be said about your perfect bridal look! Your wedding dress, shoes, hairstyle, jewelry, the bouquet and of course the hair accessories are to be picked up with attention and care. Everything must be amazing on its own, and even more amazing together. And today we are going to speak about how to choose hair accessories so that to bring to life the bridal image you have in your mind. There are a couple of aspects to pay close attention to and we are going to turn to each of them.
Staying True to Your Personal Style
Whether you are a fan of the bohemian chic style or prefer a minimalist look, it's highly important to stay true to your personal style. What presumes a "perfect traditional bridal look" for someone, may not coincide with your ideas. But your wedding day is only yours, hence make your wedding headpiece choice yourself, without asking for anyone's opinion. Well, and let us give you a couple of tips.
Pairing It with Your Bridal Gown
Undoubtedly, the most important aspect of an immaculate bridal image is the gown. When choosing an accessory to adorn your hairstyle, it's important to first look at the dress. Is it a simple one with no embellishments or is it lavishly ornate with floral appliques? In the first case, you are free to choose as luxury bridal hair accessory as you wish. For instance, the PANAGIOTA navy blue hair comb created by TopGracia can be a marvelous addition to an elegant dress. The central blue rhinestones set the tone of the accessory, while the clear crystals, round artificial pearls, and the silver metals enrich the whole pattern. The accessory can be worn almost with any hairstyle, yet will appear especially great worn with hair down and swept to the side.
Meanwhile, if your dress is too opulent on its own, it will be more expedient to opt for a simpler variant. What about a couple of hairpins to add some chic to your sophisticated updo? TopGracia can offer you KALYPSO hair pins. Being elegantly simple and amazingly lightweight, these hairpins decorated with several acrylic blooms and marquise-cut clear crystals, you won't ever feel them fastened into your hair. Yet, your guests will be charmed at how exquisite you look!
Anyway, if you would like a bit more eye-catching variant, why not consider KYRILLOS hair pins? They are much like the previously-described accessory yet are a bit more lavishly constructed.
And finally, make sure the color of the accessory you select goes with that of your wedding dress. Here at TopGracia, nearly all hair decorations are available in several colors including blush, silver, gold, ivory, white, and champagne.
Count on Your Hairstyle
The second most important aspect to take into consideration is the hairstyle you intend to have on your nuptials. Are you going to wear a strict updo, a romantic half up half down, or perhaps you would like to have an all down hairstyle? The most popular accessory today is the hair comb. The key is that there are so many amazing options that can go practically with any hairstyle. They work fabulous accentuating an updo in the side or back of the head. For instance, AMALTHEIA hair comb is great when fastened on the side of the bride's head. This hair flower looks graceful and definitely adds charm to such a down-do.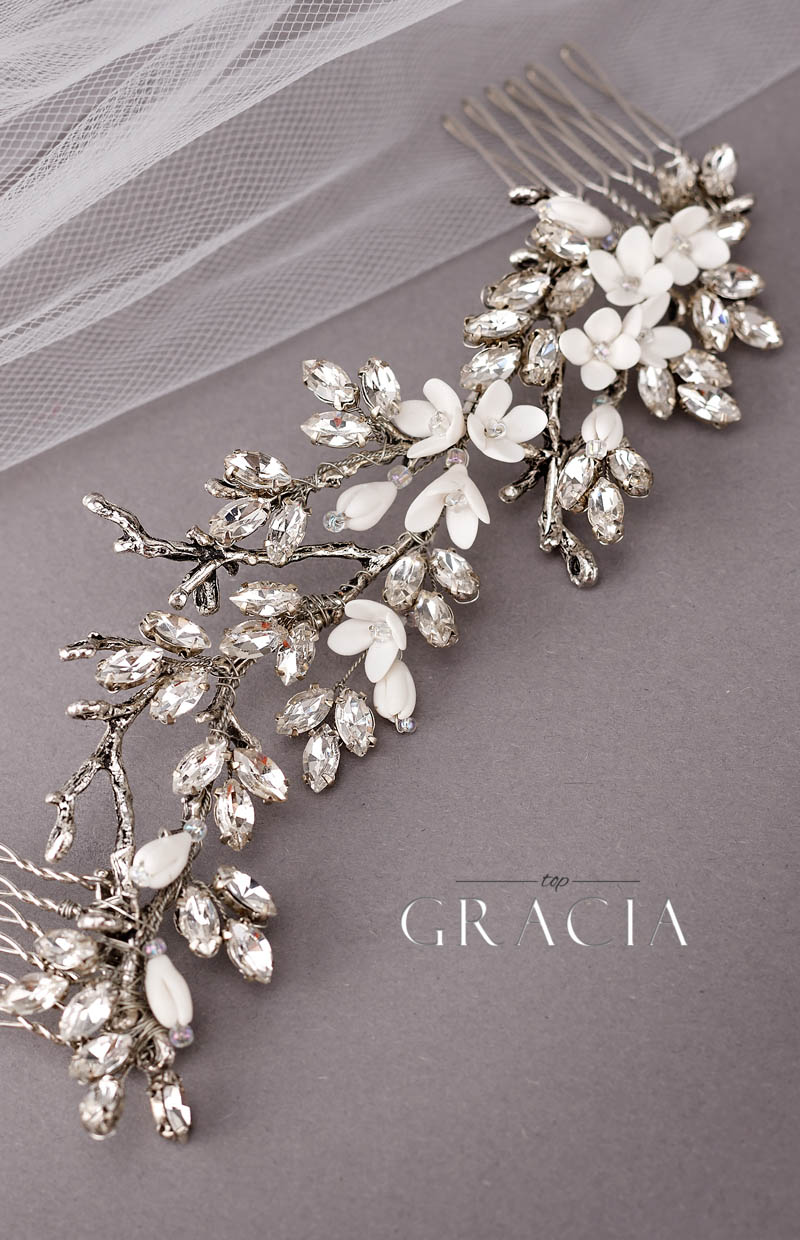 ROSE hair comb or the same hair comb yet in blush hue, meanwhile, will look its best fastened to a tight elegant high bun. The central fabric bloom pattern makes the focus while the surrounding branches of pearls, beads, and leaves serve as pretty accents.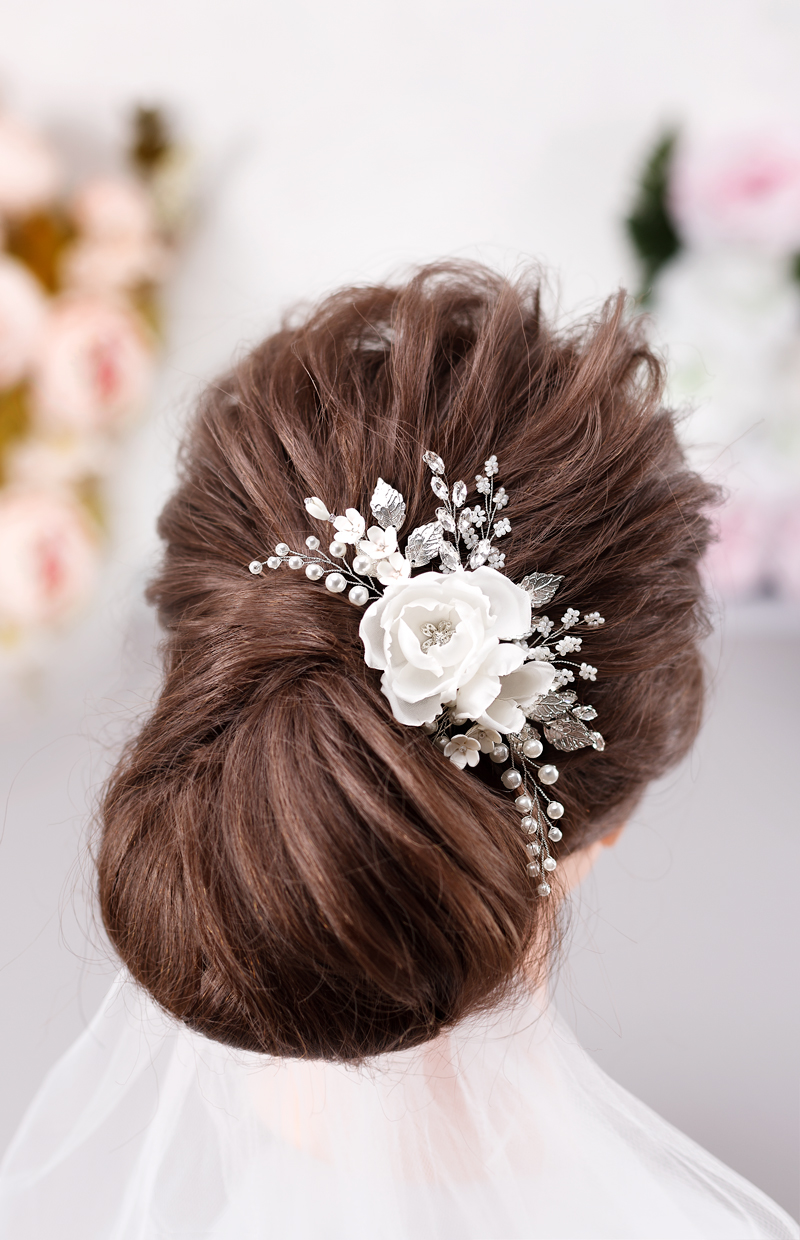 For any of the above-described hairstyles, use GAIA hair comb and instantly get a glamorous look! This opulent piece of beauty has charming golden blooms, ivory pearls, clear crystals with bluish shine. Anyway, if you have fine hair, you may find it better to choose a lighter accessory so that it won't slip in the middle of the ceremony. Yet, if you were blessed with thick heavy locks, this gorgeous comb is a win-win option!
Headbands and tiaras can easily add a dramatic statement to your look. Having at hand a proper accessory, you can either bring an understated appeal to your traditional appearance or bling out a glam charm. For the first variant, TopGracia would recommend KORE flower crown. This is a subtle headpiece with rose gold leaves, blush acrylic blooms and small beads all constructed on a very thin yet highly durable rose gold jewelry wire. It can be worn as a halo for a boho-inspired look or on the back of your all down hairstyle for a more romantic style.
The NIKEPHOROS hair piece, on the contrary, is there to create a boom! Wear it and admired glances are guaranteed. It's an adorable lavish headpiece with white small blooms, metal leaves, and pearls fastened tightly on the string. Fit the jewelry under a high updo, or above the half-down style. The choice is yours!
Gold or Silver?
Whether to go for silver or gold is a serious matter to think about. If you can't make out which color of the headpiece to choose, just count on the color of your dress and jewelry. Gold adornments are great with offwhite, ivory or champagne gowns. At the same time, you should be wearing only gold jewelry. What concerns the color of your locks or complexion, here you can take a deep breath - gold accessories go equally well with any complexion and locks, let you be a sexy dark goddess or a cute white blonde. Moreover, gold is beautiful with redheads, too!
If you find your wedding dress in the type that we described, and are going to wear gold jewelry, HERMIA flower crown can complete your entire bridal look. This headband has ivory acrylic bloom petals, gold leaves, and little round pearls. The pattern looks particularly marvelous on loose down dos, yet can enrich any hairstyle you choose due to its flexible and bending nature.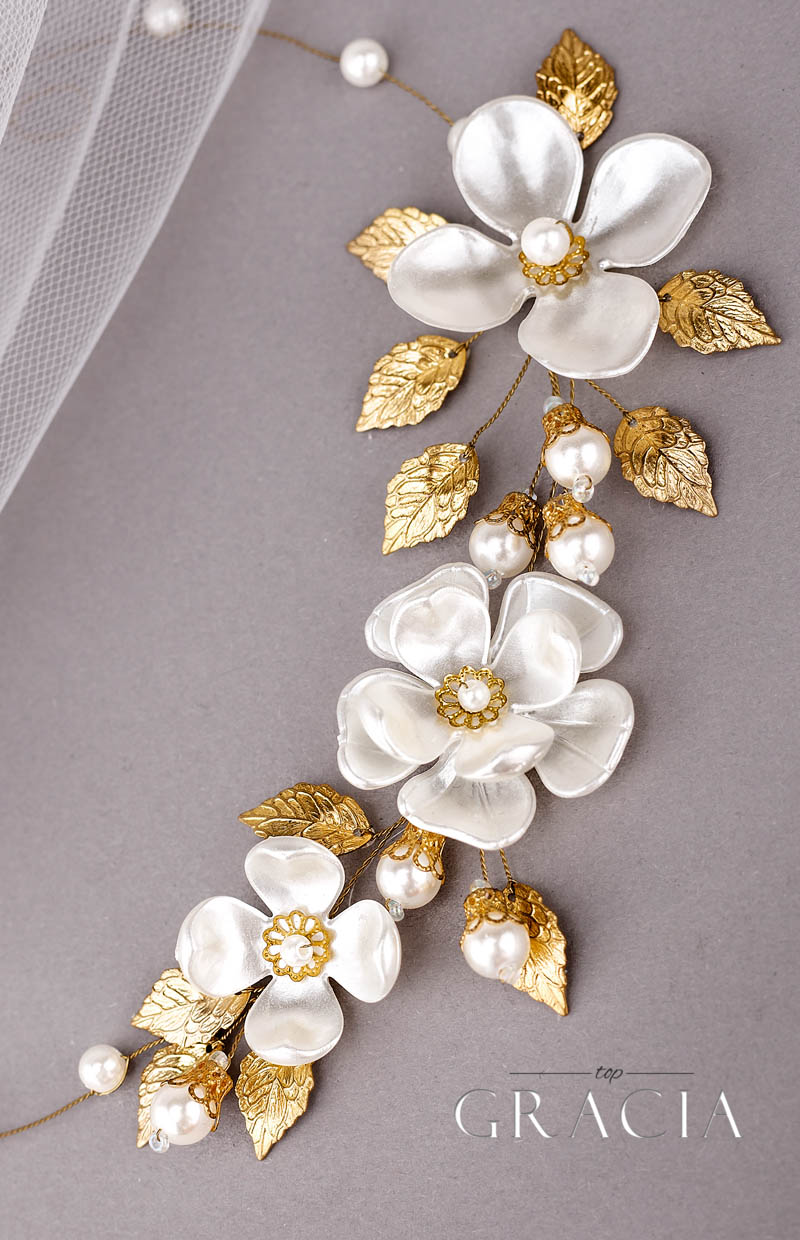 Silver accessories are beautiful with white, blush and colorful gowns again under the condition you will be wearing only silver jewelry.
So, now when you are already aware of all the important points to be cautious about when selecting a headpiece, the magic gates of TopGracia's handcrafted accessories are open for you!
Facebook Comments ()